Travelex launches Ice Cream Index to help holidaymakers make the most of their spending money
---
5 Jul 2017
---
Research reveals the best value holiday hotspots for Brits
London, 5 June 2017 – Travelex, the world's leading specialist provider of foreign exchange, is launching the Ice Cream Index to help travellers plan their holiday spending money. The index ranks the most popular summer holiday destinations based on cost of a single scoop ice cream cone. Research indicates that Brits were expected to purchase over 337 million litres of the cold stuff in 2016 alone[1], so how much can they expect to pay when travelling abroad?
With uncertainty still rife following the recent General Election result, Travelex is helping Brits prepare for the holiday season and ensure they are getting the most out of their holiday spending money. Travelex has analysed the top holiday destinations from last summer to create an index detailing just how much an ice cream will set the average tourist back, helping them make their currency go further this summer.[2]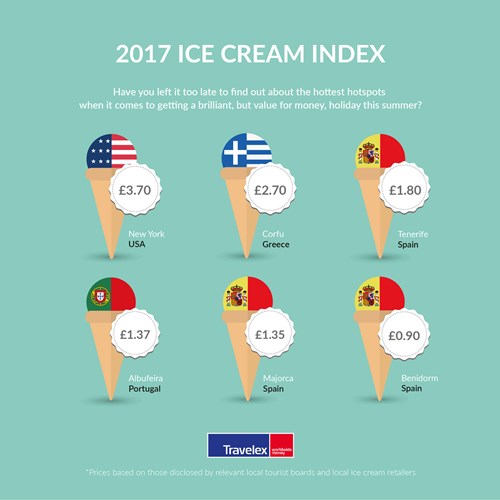 ¡Que Aproveche!
Benidorm serves up the cheapest ice cream at just 0.87 GBP per single scoop, closely followed by Majorca and Gran Canaria at 1.30 GBP. In addition to Spain being a popular tourist destination, with six different Spanish tourist spots making an appearance in the top ten, the country also proves itself as offering the best value for British travellers too.
At the opposite end of the spectrum, New York is the most expensive place to buy an ice cream at an average of 3.22 GBP. Close second is Corfu, charging the average tourist 2.61 GBP. The full top ten list of destinations and prices can be found below. 


| | | |
| --- | --- | --- |
|   | Destination | GBP |
| 1 | Benidorm, Spain | 0.87 |
| 2 | Gran Canaria, Spain | 1.30 |
| 3 | Majorca, Spain | 1.30 |
| 4 | Albufeira, Portugal | 1.33 |
| 5 | Tenerife, Spain | 1.74 |
| 6 | Ibiza, Spain | 1.74 |
| 7 | Crete, Greece | 1.74 |
| 8 | Lanzarote, Spain | 1.74 |
| 9 | Corfu, Greece | 2.61 |
| 10 | NYC, USA | 3.22 |
John Rayment, UK Commercial Director, Travelex, adds: "Young or old, ice cream is the perfect way to cool down on the family summer holiday, and the index is a direct reflection of what travellers can expect to pay for everyday items whilst abroad in these top holiday destinations. By planning ahead, including researching the best value locations and ordering travel money in advance, people can really make their currency go further this summer."
For more information on currency exchange and to order travel money in advance online, please visit www.travelex.co.uk. 
-ENDS-
Notes to editors:
For more information, please contact travelex@hotwirepr.com.
ABOUT TRAVELEX:  
Founded in 1976, Travelex has grown to become the world's leading specialist provider of foreign exchange, with presence in 29 countries. The Group has built a growing online and mobile foreign exchange platform, across 23 countries, and developed a network of over 1,000 ATMs and 1,500 stores at both on-airport and off-airport locations around the world. It also processes and delivers foreign currency orders for major banks, as well as for travel agencies, hotels and casinos. In addition, the Group sources and distributes large quantities of foreign currency banknotes for customers including central banks and international financial institutions. The Group is also active in the remittances and payments space.
https://www.facebook.com/TravelexUK?fref=ts
https://twitter.com/TravelexUK
[1] http://www.mintel.com/press-centre/food-and-drink/choc-scoops-top-spot-in-uk-ice-cream-innovation-22-of-new-ice-cream-products-launched-in-the-uk-is-chocolate-flavoured
[2] https://tripadvisor.mediaroom.com/2016-05-11-SPAIN-MOST-POPULAR-FOR-BRITS-THIS-SUMMER-BUT-GREECE-OFFERS-BEST-BARGAINS-TRIPADVISOR-DATA-REVEALS
---
---