The Brexit Effect: average family holiday to increase by £518 this summer
---
2 Mar 2017
---
Travelex and money saving expert Jasmine Birtles team up to help Brits save their holidays
Since the EU referendum last June, the value of sterling has dramatically fallen against the Euro, meaning the overall cost of travelling to Europe has sky-rocketed. Travelex, the world's leading specialist provider of foreign exchange, today reveals that the average cost of a family holiday abroad to Europe will cost almost a fifth more this year than it did in 2016. With the average family holiday costing £2,333 in 2016[1], a family of four can expect to pay a whopping £2,851[2] to travel abroad to Europe this summer – an 18.2% rise.
To prepare Brits for the holiday season, Travelex has provided a handful of top money-saving tips to help holidaymakers manage their spending, meaning they don't have to give up their well-deserved holiday. By swapping from market-leading brands to some cheaper alternatives when it comes to holiday essentials, consumers could easily save over £518 and still enjoy that family trip abroad this summer: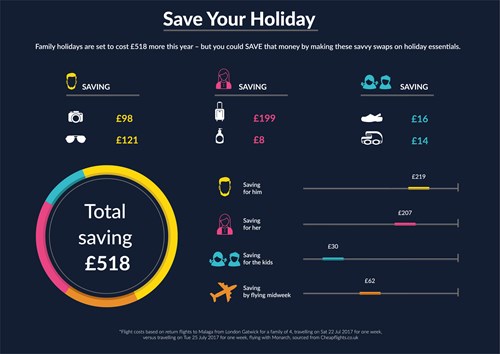 Finance guru and TV journalist Jasmine Birtles has worked with Travelex to advise Brits how to save money when booking their family holiday:
Book early! It might be easy to say and sound simple, but planning ahead and booking a few months in advance can make all the difference, particularly if you plan to travel in the popular school holidays. Ideally, you should book at least 56 days in advance in order to get the best deals on flights.
Is it necessary to fly? Flying isn't the only way to go – are there other means of transportation you could take? Keep your options open and look into it – comparison sites like GoEuro compares flights against the cost of driving, taking a train or bus across Europe.
Make sure your EHIC card is valid and in date. But remember it doesn't cover everything and you will still need insurance to pay some of the bills.
Pre-plan your travel insurance. Make the most of comparison sites to find the cheapest option available to you. If you go abroad more than twice a year, it's worth looking into annual policies as this could be a cheaper option than taking out multiple policies, and means you don't have to think about taking out a new one later in the year. Also ensure you are covered for all eventualities, including 'dangerous sports' if you're planning on skiing, climbing…even golfing or banana boating.
And then pre-plan some more. Never leave collecting your travel money until the last minute. Use a respectable foreign currency provider like Travelex to get the best rates possible, and even start keeping an eye on the rates months in advance to get it at the best possible price. What's more, you can get it delivered straight to your door.
Get swapping! Lastly, and something I've become a big fan of recently, get into house-swapping. This can cut out a massive proportion of accommodation costs, particularly for bigger families who just cannot afford to rent out multiple bedroom villas or hotels. In some cases, families can even swap cars and boats. Join a reputable house-swapping agency (taking into consideration a small annual fee) and then see where in the world you and the family would like to go next.
Jasmine Birtles explains: "There are so many components to booking a holiday, it's too tempting for the average family to take the easy route and book the first thing they see. However, making just a few, simple cut-backs and planning in advance really CAN make all of the difference. At a very basic level, families should start thinking about their next summer holiday as far in advance as possible, then start making a check-list of what needs to be organised, starting with transport, insurance and travel money. This, in conjunction with the cut-backs on holiday essentials that Travelex has suggested should make it much easier for families to make savings when planning for their holiday. It will enable them to enjoy their summer break away without feeling the pinch!".
Vincent Arcuri, Global Head of Retail, Travelex, adds: "We're on a mission to save the holiday for Brits, and the small swaps we've suggested, along with Jasmine's top money-saving tips, really do add up! Due to the price hike in family trips to Europe, it's more important than ever travellers get the best value for money. One way to get the best deal is to use our Travel Rate Tracker. It monitors exchange rates so you don't have to, and helps you get the most foreign currency for your pounds."
[1] Research according to Heathrow Airport
[2] Amount based what a family holiday would cost now based on the value of the pound against Euro. 18.2% increase on £2,333 is £518, taking total cost of family holiday this summer to £2,851
---
---