Spending swaps
Turn everyday indulgence into the holiday of a lifetime
Seeing the world is something we'd all love to do a little bit more of
A whopping 62% of us don't travel as much as we would like to, and 60% of us blame that on money, but what can we do about this?
To experience the adventure of a lifetime, you need only substitute one everyday item. Whether it's takeaways, your morning coffee, or even alcohol, you can save enough money to tick an incredible destination off your to-see list.
Don't believe us? Read on for our top 10 spending swaps!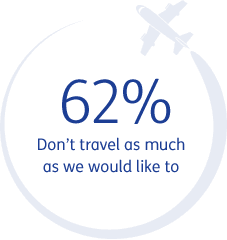 Coffee
We know, Monday mornings can seem a bit of a trial without a healthy dose of takeaway coffee, but if you managed to wean yourself off for a year, you could save roughly £393. Wondering where that will take you? Well...
It's nicer in Nice
It's just a hop, skip, and a jump over the English Channel, but the south of France is a gorgeous sunny spot that's perfect for a getaway.
A week-long holiday there in a four-star hotel could cost as little as £203, so even if you only halved your takeaway coffee consumption, you could still grab yourself a slice of paradise for seven whole days.
Cashing in on the continent
Sometimes, just one destination isn't enough, so how better to explore mainland Europe than with an Interrail pass?
For £359, you can pick up a 22-day 2nd class adult pass and make your way around 30 European countries, collecting souvenirs and memories as you go.
Takeaways
Yummy, greasy, and… surprisingly expensive. We can't deny the joy of a takeaway on a Friday or Saturday night (or any other day ending in 'y'), but it can be a pricy habit. 16-24-year-olds spend an average of £19.61 per week, which adds up to £1,019.72 every year!
Looking at that age bracket in particular, where could you go for that money?
The Sunshine State
Between Orlando, Miami, Tampa, and Tallahassee, Florida is one of the most popular states for holiday-making. 43.8% of 18-24-year-olds would love to visit the USA in 2016, and they could do this by swapping their takeaways for a spot of sunshine.
A week-long stay in Florida in June 2016 (including return flights from London) could carry a price tag of as little as £820, leaving almost £200 left of your takeaway savings to contribute to your spending money.
Have a piece of Havana
Just 227 miles from Miami is Havana, Cuba's thriving capital. A week-long stay in a four-star hotel, plus return flights from London, racks up a bill of as little of £750. Worth surviving without takeaways for a year, we reckon!
Smoking
It comes as no surprise that a smoking habit quite literally burns money. To be precise, based on the RRP of a pack of 20 cigarettes in 2014, the average smoker spends £1,543.95 each year on their vice (smoking 10 per day), which rises to £3,087.90 on a 20 per day habit.
Viva Las Vegas
£1,543.95 could buy a week-long holiday in Las Vegas. GoCompare found seven-day, five-star holidays in Vegas (13-19 June '16) for as little as £1,024.19 – including flights and hotels - with plenty left over for a sunset helicopter ride around the Grand Canyon (roughly £349).
Take in Tokyo
A holiday in one of the most exciting cities in the world is more than do-able with the money you'd save not smoking. A week in a four-star hotel and return flights from London could come to just £757, with £56 left over for a cruise round Tokyo Bay.
Giving up the habit could earn a spectacular holiday like this every year; now that's an incentive to quit if ever we heard one.
Alcohol
The majority of Brits enjoy a tipple every now and then, but you'd be surprised how far sacrificing the booze for a year would get you. The average Brit spends £787 per year on alcohol (which rises to £886 in London). Where could you go if you swapped this?
Roman holiday
Do you fancy soaking up the culture in Rome in May 2016? Well, for as little as £413 you could be staying in a five-star hotel for seven days, and enjoy a three-hour tour of the Colosseum on top of that for an extra £73.
Who needs a vino blanco when you can enjoy this beautiful city for a whole week?
A land down under
15.9% of people said that Australia is one of their dream destinations for 2016, and surprisingly, that yearly cost of booze will buy you return flights with plenty left over to spare.
Flying from London to Sydney and back (12-25 June 2016), you could spend as little as £567 according to travelsupermarket.com.
Eating out
According to the Office of National Statistics, British households fork out (pardon the pun) £863.20 over the average year on restaurant meals.
If you cut that down by half, that works out as £431.60 – enough for a decent holiday? It sure is.
In the land of the Gods
Since 14.3% of you fancy heading to Greece, you might be surprised to know that a return trip from London to Athens, staying in a five-star hotel for a week in July 2016 starts at £346. Add on a hop-on hop-off tour ticket, and your bill still only comes to roughly £360.
Sun, sea, and sangria
You can succumb to the charms of Barcelona for just £407, according to GoCompare. A week in a four-star hotel plus your return flights can come to less than half the average yearly restaurant bill, with plenty left over to enjoy some tapas.
Escaping to one of your dream destinations is easier than you think.
You can swap the everyday cost of a little indulgence or a bad habit for the trip of a lifetime (and a healthier you); give it a try and see where it takes you!