All about Tunisian currency
Everything you need to know about arranging your travel money for Tunisia.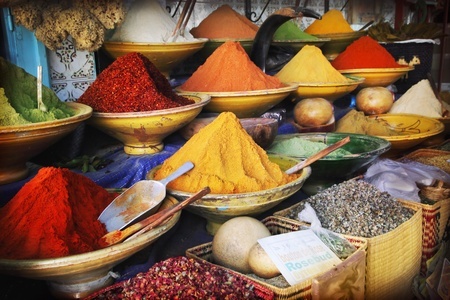 Heading to Tunisia on your next holiday?
If you're looking to buy your travel money before you arrive, you'll soon find out that Tunisian dinar isn't exported out of the country and therefore, you won't be able to exchange any to take with you before your holiday.
There's no need to worry though, because it's easy enough to exchange your money once you arrive in Tunisia. Here's everything you need to know.
What money should you take into Tunisia?
Even if you manage to find somewhere exchanging Tunisian dinar at home, don't take them up on the offer. It's illegal to bring the currency into the country and no place that's reputable will sell it to you.
Once you arrive in Tunisia, British pounds will readily be accepted for exchange, as will euros and US dollars. Most other currencies are exchangeable too, but not as widely. If you're happy to carry your cash on you, a good option is to take your spending money in one of these currencies and exchange it for dinar on arrival.
If you prefer to use your credit or debit card to withdraw money once you're in Tunisia, that's fine too as ATMs are widely available in tourist resorts and towns. However, you may be faced with surcharges of around 4% on your card, and you should still take a small amount of cash with you to exchange in case of emergencies or problems with your card.
Where can you exchange your currency in Tunisia?
You can exchange your foreign currency at banks, bureau de exchanges, hotels and post offices across Tunisia. The exchange rate is fixed by the government and so there shouldn't be any difference between your rates, wherever you choose to exchange your money. Be sure to bring your passport along with you too, as it might be required for you to change your money.
Make sure to exchange enough money whilst you're there, so that you don't need to rely on using your debit or credit card when you're out and about – you might find that stores and restaurants don't accept card and only operate in cash.
What if you have leftover currency?
Just as it's illegal to bring dinar into the country, it's illegal to take it out too. This rule is taken pretty seriously and the Tunisian authorities have the right to spot search your luggage at the airport. This means that before you leave, you must make sure to change back all of your currency – and this includes coins too! Don't worry about going hungry at the airport though, since shops and cafes will accept a whole range of other currencies, including British pounds, euros and US dollars.
Read our great reviews on Trustpilot!
---
I had a small balance in a currency…
I had a small balance in a currency which I did not want for my recent holiday. I thus changed to the currency of the latter which left me with an odd amount (in dollars and cents) which I would never be able to withdraw (as ATM's dispense only high value notes). I was able to buy a top up in an odd amount to make my balance a round one! Problem solved. And use of the card - in this case in Canada - was as ever very easy. The only downsides were that most ATM's charged for use but free ones were available - but had to be sought. The worst aspect was that during our holiday the pound strengthened quite a lot (almost 10 cents) compared with the Travelex rate at the time I bought Canadian dollars!!
Geoffrey Hall
Efficient professional service
Efficient professional service
donkirk
Convenient and speedy
Convenient and speedy. Not, however, the best rate of exchange.
John, London
ATMs in Greece
Very pleased to get a refund after being deceived by a Greek ATM with confusing instructions for withdrawing euros from my Travelex card. Also very pleased to be advised about how to avoid this in future - and the advice worked.
Richard and Jane
This was honestly a stress saver
This was honestly a stress saver! I was travelling to Japan but wasn't aware that I had to preorder my Japenese Yen and there were no shops open which had the amount of Yen that I wanted to exchange. After a quick search, I found that Travelex did last minute airport delivery, which was perfect for me as I was travelling on Monday morning and it was late early Saturday evening at this point. The rates were also one of the most favourable which I had found, which was a bonus as I didn't feel like I was losing money, or as much money as I would have lost if I had exchanged money at the airport. These were the benefits, the only drawbacks were that it took a while for my confirmation email to come through which would not have been an issue if I didnt need the money for the actual day that I placed the order for, but it finally came through late Saturday night which was fine, but may have posed an issue if they had told me that they couldn't fulfil my order. Other than that, the lady who served me would have benefitted in some customer service training. It wasn't that she was rude, but rather that she just didn't seem to care - she was more focused on the conversation she was having with a colleague than she was me, and looked quite annoyed that I had disrupted this very important conversation. Other than that, all was great and I would most definitely recommend Travelex for last-minute currency orders!
Elina
Although it took some time to…
Although it took some time to eventually get the money card I had ordered it was easy.
customer
Used then before
Used then before, good exchange rate offered and very fast delivery, well worth using
Maurice Ling
As usual this was efficient and prompt.
As usual this was efficient and prompt.
Ms M Whitfield
Very efficient service and reasonable…
Very efficient service and reasonable rates.
Diane Garvey
Fast and easy to use
Fast and easy to use
Nicole
Quick
Quick, efficient and friendly service.
Hayley
Straightforward, online order then collect
Really straightforward (I picked up from the airport before security). Scattily I left ordering to the last minute and this was one of the few places able to take my order as I didn't want the expensive rates at the airport (Chinese Renminbi and Indonesian Rupiah) and it was ready two days after ordering. The only issue was that Vietnamese Dong was not available to buy.
Sarah
Good exchange rates
Good exchange rates, easy to use website. Straight forward when picking up currency from airport Travelex desk. Will definitely use again, although my local Tesco now has a Travelex desk, so I may give that a try.
Elaine
Very reasonably priced insurance.
Very reasonably priced insurance.
DG
Online order for home delivery
I ordered currency online and had it delivered to my home. All went smoothly as usual. The only annoying thing was that you now have to order £600 worth to get free delivery whereas it used to be £500.
Mr Edwards