Our prepaid currency card
Top up your card with your choice of 10 available currencies: British pounds, US dollars, euros, Australian dollars, New Zealand dollars, Canadian dollars, South African rand, Turkish lira, Swiss franc and UAE dirham

Lock in exchange rates

Use your travel card abroad across millions of locations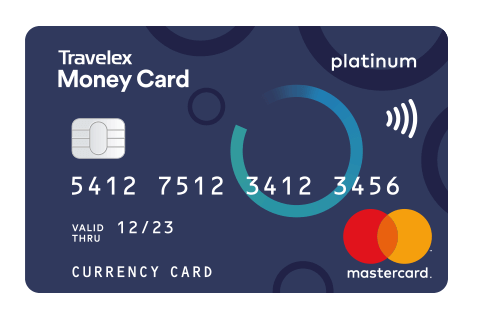 Buy now
Why Travelex Money Card?
Free wifi worldwide

Enjoy an on-the-go internet connection without the roaming fees**

Find out more

24/7 assistance

If your card is lost, stolen or damaged, we offer 24/7 global assistance to replace it or provide you with emergency cash

Need support

Free access to cash

With no ATM charges overseas, you can withdraw cash whenever you need it at no extra cost*

Travelex does not charge ATM fees but some operators may do so, check before you withdraw cash

Platinum benefits

Receive exclusive discounts and offers with our platinum card benefits

Find out more

Safe & secure

Travel abroad more safely without needing to carry all your cash

How it works

Get your card

Order your Travelex Money card online, over the phone or in store. You can choose between store pick up or have it delivered to your home.

Buy now

Activate card

If you buy or collect in store, it'll be activated automatically and you'll get your PIN straight away. If you order your card and request home delivery, activate it by calling Card Services.

0800 260 0355

Register

Register your card online to manage your account with ease.

Register

Spend!

Spend with your card at millions of locations worldwide.

Top up

Getting the most out of your card

Accepted at millions of locations worldwide

Paying for meals at restaurants
Spending in shops and online
Paying for drinks

Withdrawing money from an ATM
Travelling to multiple countries
Paying for trips out

Things to watch out for

It's important to remember that there are a few things that your card's not built for.

Since Travelex Money Card is a prepaid card, we recommend that you don't use it for reserving a rental car or hotel room, on a cruise, or at an automated fuel pump. For more information, see our fees and limits.

Help & FAQs

Terms and conditions for the Travelex Money Card can be found here.

To contact us about Travelex Money Card, click here for details.

Common questions:

Have a Travelex Cash Passport already?

More travel currency cards

If you're one of our existing Cash Passport customers, not to worry. You can still use your existing Cash Passport until the expiry date on the front of the card. However, the good news is that you can also order and start using your Travelex Money Card right away, even whilst your current Cash Passport is still valid. You can also transfer the balance on your existing Cash Passport to your new Travelex Money Card in the same currencies and at no extra cost by contacting Card Services.

Travel Inspiration

Travelex hub

---

From the hottest destinations to last minute travel and family fun, here's to making your next trip the best one yet

Explore

Don't yet have a Travelex Money Card?

Why not buy the new Travelex Money Card and get all the great benefits to enjoy all year round…

Get card

Sign up to our newsletter to receive exclusive offers and discounts

* Please be advised that although Travelex does not charge ATM fees, some operators may charge their own fee or set their own limits. We advise to check with the ATM before using.

** Wifi is provided by Boingo hotspots. Wifi access is limited to three months from registration and an additional three months each time you reload your card with £100 or more.

Mastercard is a registered trademark, and the circles design is a trademark of Mastercard International Incorporated. Travelex Money Card is issued by Wirecard Card Solutions Ltd ("WDCS") pursuant to license by Mastercard International Inc. WDCS is authorised by the Financial Conduct Authority to conduct electronic money service activities under the Electronic Money Regulations 2011 (Ref: 900051).