The Travelex Money app: the easiest way to get our best rates on currency, wherever you are.
Ordering your currency just got even simpler: with our Travelex Money app, you can buy cash for your next trip with just a few swift taps of your phone.

The app remembers who you are too, making repeat ordering a breeze! Time for a holiday, you say?
Available on both Android and iPhone now.
New! Manage your Travelex Money Card through our app
Introducing the new Travelex Money app update, where you can now check the balance of your Travelex Money Card and reload it in a flash. Simply manage your account with a few taps and carry on enjoying your trip!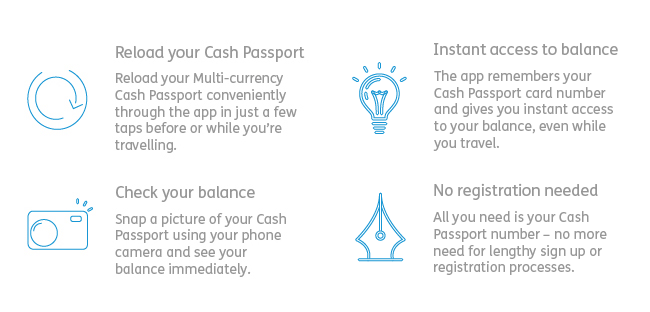 Budgeting made simple
Have you ever wondered just how much money you'll need on your trip? Meet our in-app budgeting tool! Helping you to calculate your holiday spending money with ease, you'll be relaxing by the pool – cocktail in hand – in no time.

And once you're away on holiday, the fun doesn't stop there: use our app as an offline currency converter (even without WiFi), so that you can work out exactly how much that novelty sombrero will actually cost you.
Find your nearest store
Need to find one of our stores? We're located across the UK! With our simple store locator, you can find your nearest store easily.
Download on App store Download on Google Play store


Want to get in touch?

Email us at Helpdesk.Onlinetravelmoney@travelex.com



Tweet us at TravelexUK



Find us at facebook.com/TravelexUK


If you have any feedback on your experience in our app, we'd love to hear it – email us at mobile@travelex.com
Exclusive rates available for a limited time only.
Subject to terms and conditions.
Please note that you are unable to purchase our Cash Passport card through the app.

R. Raphael & Sons plc, pursuant to license by MasterCard International Inc. MasterCard® and the MasterCard Brand Mark are registered trademarks of MasterCard International Incorporated. R. Raphael & Sons plc is a UK bank authorised by the Prudential Regulatory Authority and regulated by the Financial Conduct Authority and the Prudential Regulatory Authority (registration number 161302) and is permitted to issue e-money. Head office and registered office at 19-21 Shaftesbury Ave, London, W1D 7ED, company registration number 01288938.