What is the currency in Morocco? Moroccan Dirham
Morocco is a captivating and exotic travel destination that uses the Moroccan Dirham as its currency.
Are you looking to learn more about the currency of Morocco, how much to take, whether cards are widely accepted and how much things cost? This comprehensive guide will give you everything you need to know about travel money in Morocco.
What currency does Morocco use? The Moroccan Dirham (MAD)
The history of the Moroccan Dirham
The Moroccan Dirham originates from the Byzantine Empire, the eastern side of Roman civilisation in Europe and Asia. The word "dirham" comes from the Latin word denarius, the Roman gold coin [1].
When Morocco became a French state in 1921, it switched to the Moroccan Franc, but the Dirham was reintroduced in 1960 [1].
Current bank notes in Morocco
Need some more detail on what currency does Morocco use? Let's take a look at coinage and notes.
Dirham notes come in the following denominations:
20 dirham (purple)
50 dirham (green)
100 dirham (brown)
200 dirham (blue)
Current coins in Morocco
The coins currently in circulation are 10 santimat, 20 santimat, ½ dirham, 1 dirham, 5 dirhams and 10 dirhams.
Moroccan Dirham to pounds
Moroccan dirham is a closed currency, which means you can't get hold of it outside the country.
You can exchange your pounds for dirhams in banks, hotels and Bureaus de Change in an airport or port - and turn any leftover money back at the end of your trip. There's no limit to the amount of cash you bring into the country [1].
Note that it's very difficult to exchange Scottish, Gibraltar or Northern Irish pound notes.
Spending money in Morocco
Money in Morocco goes further than at home. You'll find prices in shops and restaurants to be much cheaper than you're used to in the UK.
Pounds to Moroccan Dirham
Because Moroccan Dirham can't be taken out of Morocco, you will need to convert any cash left over at the end of your trip. Again, you can exchange dirham back into pounds at most banks, hotels and at the airport. It can be helpful to keep your receipts when changing money.
Can I use my card in Morocco?
Many tourist destinations will accept payment with a UK debit or credit card, and you can use them in most ATMs. Mastercard and Visa are widely accepted, while it is generally more challenging to find places that take Amex or Diners Club, so you will be better off taking an alternative card or cash as backup.
Tipping and haggling in Morocco
Haggling over prices is standard practice in Morocco, especially in markets or souks. You can also haggle for some services, such as car rental or hiring a guide for the day. Prices are usually fixed in restaurants, supermarkets and stores [2].
Tips aren't mandatory, but if you're happy with the service you've received, a tip is always appreciated. As in most destinations, it's very common to round up a bill or leave some cash at the end of a meal.
Getting Moroccan Dirham before your trip
Because it's a closed currency, you can't buy dirhams in the UK or any other country outside Morocco. Most travellers take pounds sterling and exchange them in Morocco. You can also withdraw dirhams from an ATM, either with your own bank card or a Travelex Money Card.
It's a good idea to get hold of some dirhams as soon as you can after arrival, as not everywhere will take cards. There is also a tourist tax to pay which is usually expected in cash.
References
Moroccan dirham (MAD): Overview, history, faqs, Investopedia. Available at: https://www.investopedia.com/terms/forex/m/mad-moroccan-dirham.asp (Accessed: 25 August 2023).
How to haggle in Morocco? bargain like a local in the markets of Morocco (2023) Travel Talk Tours. Available at: https://www.traveltalktours.com/how-to-haggle-in-morocco/ (Accessed: 25 August 2023).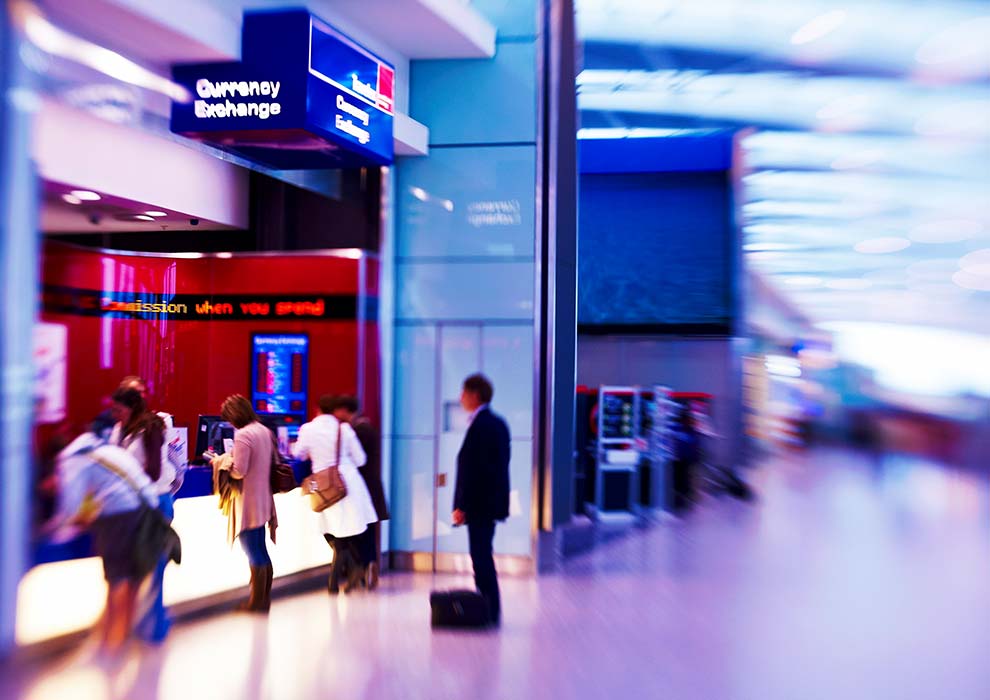 Travelex in Morocco
Since Moroccan dirhams aren't available outside of the country, you won't be able to pick up any before you head off. You'll be fine to take British pounds with you, ready to exchange once you arrive.
If you'd rather not carry cash, you can take our Travelex Money Card with you. It works like a debit or credit card and you'll be able to use it wherever you see the MasterCard logo. Simply load it up with British pounds and it'll convert to dirhams once you start using it in Morocco.