All about group travel
Everything you need to know for a successful group travel trip.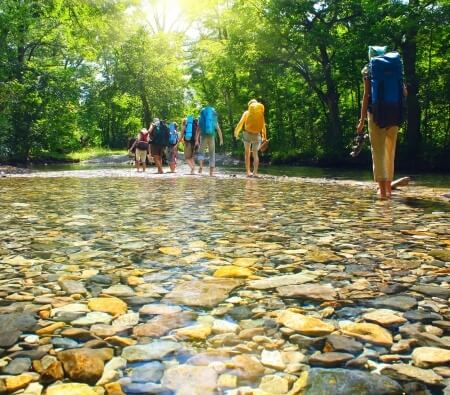 Group travel holidays
Whether you're heading off on a hen do, going on holiday with every member of your extended family or celebrating your birthday or wedding on a big scale, group holidays don't have to be a headache to organise. Plenty of travel operators out there specialise in organising your group holiday, from Purple Travel to STA Travel They can help you sort out your accommodation to find somewhere you're all happy with, and they can even arrange some adventures for you once you arrive. You're certainly not alone!
But, if you're planning on organising your trip yourself then here are our top tips to help you make things go smoothly!
Group flights
Did you know that you can actually save money on your airfare by travelling as a group? That's right, everyone from British Airways to EasyJet offer discounts and extra special treatment on group flight bookings, with every detail going towards ensuring that you have the best time possible on your group holiday. Make sure you contact them directly to see what they have to offer.
Group day trips
Even if you're happy holidaying with just your partner, family or friends, there are some trips that are just easier to do as part of an organised tour for the day. For example, you could make your own way to the vineyards of Napa Valley, but only on an organised tour will you be able to learn all about their history and unique tastes – try Incredible Adventures for starters. If you're looking to join an organised tour just for the day, your hotel is usually a good place to start looking and staff will be able to recommend the top ones in your chosen destination.
Plan, plan and plan again!
Love spreadsheets or a good old-fashioned list? Well you'll excel with group travel. Preparing an itinerary is a great way to keep everyone together and on time for all the exciting activities you have planned. For example, if you're in self-catering accommodation then it's wise to put together a cooking rota as well as a washing up rota – it avoids any arguments over who's done more cooking or cleaning!
Organisation is key
When there's a whole group of you to keep track off, organisation is key – and this means thinking of all the detail to ensure your trip goes smoothly. We always advise travellers to ensure that they've got their travel money sorted – it's one less thing to stress about before you jet off. Simply place your order with us online and you'll be able to pick up your currency from your nearest store from as little as four hours or choose to have it delivered to your home.
If you'd rather not have all that cash, find out more about our Travelex Money Card. All you need to do is load it up with your travel money and whilst you're away, you'll be able to use the card wherever you see the MasterCard logo.
Order your currency