Nation of Forgetful Flyers
---
20 Jun 2014
---
More than half of people have forgotten holiday essentials
Over two-thirds of people rely on airport shops for holiday goods
Men spend more on airport shopping than women
We're a nation of forgetful flyers according to leading foreign exchange provider Travelex. It comes as a recent survey has revealed that half of Brits admit to forgetting holiday essentials when jetting off on their annual summer holiday1.
Results from the leading FX provider revealed that women are the worst culprits when it comes to leaving things behind, with 58% forgetting holiday essentials. However, once at the airport, men are more likely to splash out on holiday goods, with an average spend of £43.84, compared to women who surprisingly only spend £35.19.
Survey results revealed that over two-thirds of forgetful holidaymakers admitted to relying on airport shops for their holiday essentials. Nearly a fifth of people admit to deliberately setting off early from home to account for last-minute airport shopping time2.
Perfume tops the list of airport purchases with 40% of people revealing they choose their scent before flying, with books coming in second – a third of people grab a holiday read whilst waiting for their flight3. An image-conscious 15% of people buy makeup at the airport, whilst 14% of people forget to purchase their foreign currency in advance.
Almost one in ten of over 35 year-olds admitted to forgetting to pack their passport before heading to the airport, proving age doesn't necessarily bring wisdom4. Only one in 50 travellers aged 18-24 forget their passports, however, one in five of them struggle to remember a clean change of pants when going away5.
Heathrow's new Terminal 2, which opened this month, provides forgetful flyers with a diverse range of shops, meaning any forgotten items can be replaced before flying. Four Travelex stores, with one landside and three airside (plus one VAT store), mean that last-minute planners can grab foreign currency just minutes before getting on their flight.
Elvin Eldić, from Travelex, comments; "In this day and age where people are able to book and hop on their flight within a few hours - it's not surprising many forget the essentials given the little time to pack let alone plan. With Heathrow responding to this 'eleventh-hour' culture through offering an extensive range of retail, those who are not organised can still arrive at their destination with all their essentials. Travelex offers a service where customers can order their Euros and US Dollars online in as little as four hours in advance, to collect at one of our airports stores – avoiding those at-destination currency disasters."
Aylin Bustamante, Personal Shopper at Heathrow, comments; "With Heathrow's Terminal 2 officially open this month, there's a total of 33 shops for holidaymakers to browse before they fly – from designer labels to digital cameras – meaning that even the most forgetful travellers can fly out stress-free." 
To secure the best price  and avoid arriving at your destination without currency,  order online for in-store collection.
- ends - 
153% - study of 2,000 people conducted by OnePoll on behalf of Travelex on 06.06.14
218% - study of 2,000 people conducted by OnePoll on behalf of Travelex on 06.06.14
330% - study of 2,000 people conducted by OnePoll on behalf of Travelex on 06.06.14
47% - study of 2,000 people conducted by OnePoll on behalf of Travelex on 06.06.14
521% - study of 2,000 people conducted by OnePoll on behalf of Travelex on 06.06.14
Top 5 airport purchases
1. Perfume – 40%
2. Books – 30%
3. Sun cream – 20%
4. Makeup – 15%
5. Currency – 14%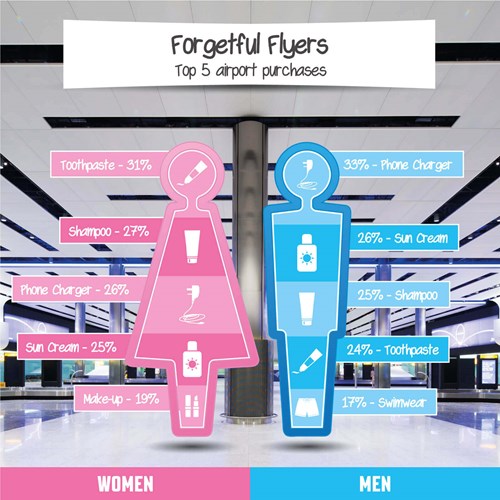 ABOUT TRAVELEX: 
Travelex is the world's largest foreign exchange specialist with almost 1,500 stores and 1,250 ATMs across 27 countries, at key airport, seaport, rail and tourist locations. Over 40% of travellers - 1.7 billion passengers a year - pass through airports where Travelex operates including the major gateways at Amsterdam, Beijing, Frankfurt, Hong Kong, London, Mumbai, New York, Paris, Sydney & Tokyo. Every hour, Travelex provides foreign currency to more than 2,000 customers.
https://www.facebook.com/TravelexUK?fref=ts
https://twitter.com/TravelexUK
For more information, please contact: Polly Goddard – M&C Saatchi PR
polly.goddard@mcsaatchi.com / 0207 544 3623
---
---